Financing that's in the field with you.
Our sole purpose is to help our growers get the inputs they need by providing highly competitive financing solutions. We offer fast, flexible and easy capital management strategies tailored to individual crop plans and budget objectives.
We pair agronomic and financial expertise to help growers meet cashflow objectives and maximize profitability through convenient access to capital and innovative finance offers.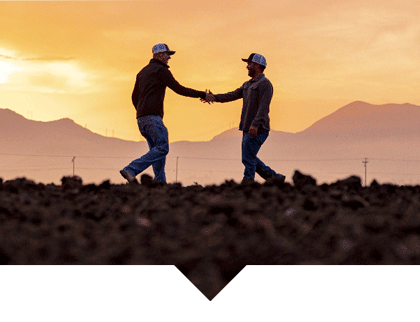 Financing that focuses on your acres and your experience.
In any economy, you can count on Nutrien Financial for customized financial services geared to your crop revenue cycles.
There are two ways to apply:
Connect your DIGITAL HUB account to your credit application
Create a Digital Hub account to get access to your:
Track your application status
OR
Verify your ZIP code and apply without Digital Hub
Have questions? We have answers 
From bridge financing to succession planning, our experts talk about cash flow management from your perspective.
Get the cash flow you need to lead the field.
Legal Disclaimer
Financing provided by Nutrien Ag Solutions. Before deciding to make an application for Nutrien Financial™, customers should review the terms of the Nutrien Financial™ application and the Nutrien Financial™ Terms & Conditions and consider whether this product is suitable for their individual and business needs. Nutrien Financial™ does not make any representations or warranties whatsoever regarding the suitability of its products for individual customers and does not provide financial advice. Customers should seek professional accounting, tax and/or financial advice before making an application for any Nutrien Financial™ financing product. Nutrien uses, discloses and handles personal information in accordance with the applicable law and regulation. Please see our privacy policy available at www.nutrien.com for information about our privacy processes.